Welcome to Bridle Bit Ranch!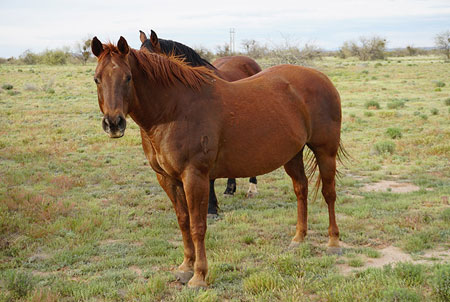 We are a small family ranch in Southern Arizona. We are fourth generation ranchers. We found our home on the Bridle Bit Ranch in 2017, however, the Bridle Bit Ranch has a long history in Marana, Arizona that began in 1964. At that time postmaster Bob Honea purchased the property from the Associated Cotton Growers. Also, at this time he purchased his Uncle, Wilbur Honea's, brand, which was the family's original brand when they moved to Arizona in 1940's. This brand was designed as a "WH", due to its resemblance to a horse bit it became known as the Bridle Bit brand. Hence, Bridle Bit Ranch. Mr. Bob Honea originally ran Hereford cattle, but after a few years he purchased a set of registered Brangus cows from John Kai Sr. In 2003, Mr. Honea sold the ranch to Brad DeSpain. Five years later Brad's cousin Ted DeSpain became a partner at the Bridle Bit. The DeSpain's are not only 4th generation ranchers but they are also 4th generation Arizonians. Under their management they focused on improving the genetics of the original Brangus bloodlines with top Angus bulls and expanding the ranch. The DeSpain's also were involved in the local community as Vocational Ag teachers at Marana High School and as Founding Members of the Town. They have great pride in their community and in the Bridle Bit Ranch. As we move forward, we want to continue the rich history of the Bridle Bit not only as a ranch but also as part of the community. Those original Brangus Bloodlines still prowl the Santa Cruz River today.
Now that you know about our history let's talk about the Bridle Bit Ranch and where it stands today. We are a traditional mother cow ranch operation. As with most ranches' horses are an integral part of our operation. With the encouragement from the gentlemen mentioned above we began breeding horses. Our focus begins with the mind, temperament, and then ability. We have 25 broodmares and have concentrated on the bloodlines of Hancock, Leo, and Mr San Peppy. Our goal is to have a horse that is capable of working all day in the pasture or sorting cattle in the pen, and then being able to perform in the arena, not only physically, but mentally as well. We can talk a lot about our horses but in the end our horses sell themselves. Our horses come with bone, solid feet, muscle, and can work all day ... oh and by the way they come with lots of color. "Uncommon Cowponies"