Oh The Places You'll Go
Check out where Bridle Bit Horses are now!
TESTIMONIALS
When making the decision to add a new member to my equine family, I started looking for the specific color and breeding that I had always wanted. After much searching, I found Bridle Bit Ranch, and I am so glad I did!
I spent many days on the Bridle Bit Ranch website, looking at the available foals, studying their breeding, looking over the photos and trying to decide which of them would work for my future. After much agonizing on my part, I selected three and sent Brittany an email explaining my plans for this new addition and requesting information on the three foals. Understanding that ranch life is a busy life, I didn't expect a reply for a few days, but Brittany replied quickly and provided detailed, accurate information about the foals, their personalities and how she felt they would be in my planned future of ranch horse showing. I chose the one whose personality and ability would work best with me and my future, Tollies Sol Kiowa (Colt). Brittany sent photos and video of his halter training process and was in frequent contact with me keeping me updated on his progress. When he arrived at my barn, he was exactly as Brittany described, and has been a perfect fit in my family.
Colt arrived at midnight on December 19. He unloaded from the shipper's trailer like a pro, and walked into a new barn so calmly, he even made friends with the barn cat right away. He is so calm and accepting of new things and his color is amazing; I had been looking for a blue roan, however, I love my bay roan boy, his color is so unusual.
Brittany went above and beyond for me in working with the shipper, providing updates, answering concerned questions and even reaching out to AQHA after I lost Colt's paperwork. I feel that Bridle Bit Ranch provides top notch breeding, care and initial training of their horses. I highly recommend Bridle Bit Ranch for quality horses. I know I will return when I am ready to add another.
Jill S.
Indianapolis, IN
---
When we decided to find a new horse we had a specific breeding and color in mind. I searched many different places and only few had the quality breeding that we desired. After viewing the Bridle Bit website and seeing the amazingly bred working stock they had. I decided to reach out and ask if they had any young and upcoming babies that were the desired colors. I wanted a Grulla, my honey wanted a Buckskin. Brittany immediately got back to me with some responses on what they had available with the Driftwood blood and any possibilities of those color combination in the unborn babies the mares were carrying. Her response time was absolutely amazing, she answered all of my questions in depth and once we picked our girl, she sent me updates as momma progressed in her pregnancy. I enjoyed getting the updates/pictures with the anticipation of our baby to come. She ended up being one of the last babies to be born and I cannot tell you how excited we were to get those first new born pictures. She ended up being a perfect combination of the two desired colors. She was a beautiful Dun with some of the prettiest tiger stripes you've ever seen. We continued to get updates as she grew and anticipated bringing her home to N.M. She is one of the best mannered young ladies and she is smart a whip. She is currently learning the ground work fundamentals and I anticipate getting to ride her in the next couple years. We are proud to announce that this year we are purchasing another sweet girl, this time a Buckskin. We look forward to getting the updates as she grows and looking forward to bringing her home as well. Looking forward to doing more business with Bridle Bit Ranch in the future, and I highly recommend them to everyone I know. Thank You so much for your honesty and your efforts in this journey we decided to begin with your amazing program. Here are a couple pictures of our girl now. Just shy of a year.
Vanessa M. Marquez
Hunsaker Acres
Milan N.M.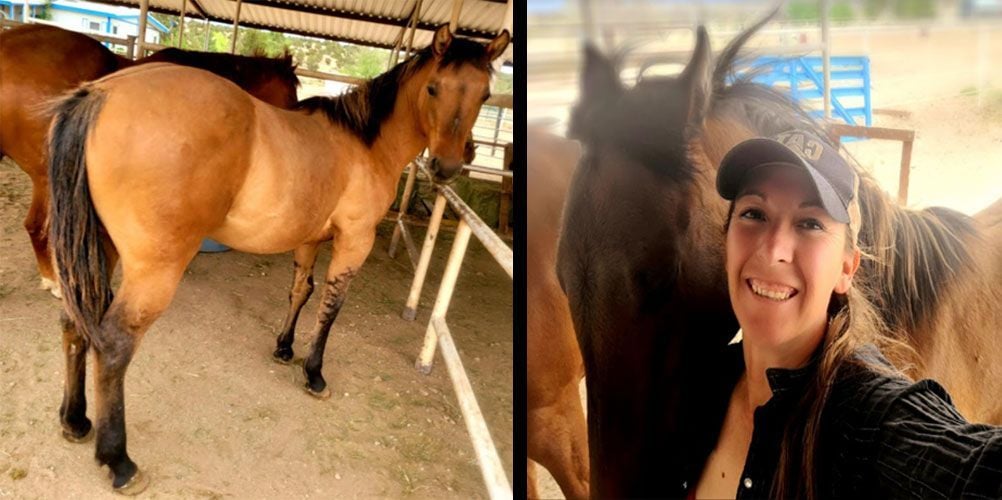 ---
I have bought and sold many horses in my many years training horses and I have to say my experience buying two fillies from the Bridle Bit Ranch ranks among the best. Brittany sent so many photos and videos and was such a pleasure to do business with. We are so happy with our two foundation bred fillies. Thanks Brittany!
Amy
Texas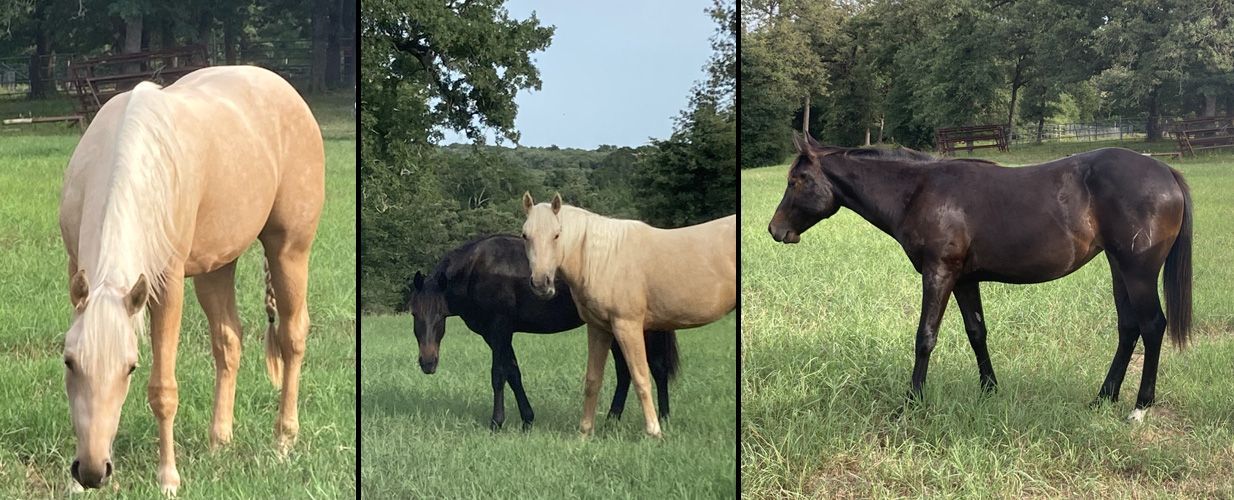 ---
The Wade Family have a way of making you feel as if you've known them forever. From the very beginning Brittany kept me involved. From meeting the mares and their amazingly mannered stallions all the way until delivery of my boy Nox.
Picture and video updates during pregnancy, special moments just after birth and every other goofy moment after. I was lucky enough to live up the street and was always welcomed to see my boy.
Every bump, scrape, scratch my boy got, I was immediately notified of. No fault of the ranch, Nox is just that horse 🙄.
The quality and care of Bridle Bit Horses are unmatched. They are with you every step of the way. Even after you've taken your Bridle Bit Baby home.
The Wade family will always have a special place in my heart. Thank you Mr and Mrs Wade, Brittany, Bryce, and Brynn for all the time and love you put into breeding the best horses. They truly are Uncommon Cow Ponies.
Anissa
Tucson, Arizona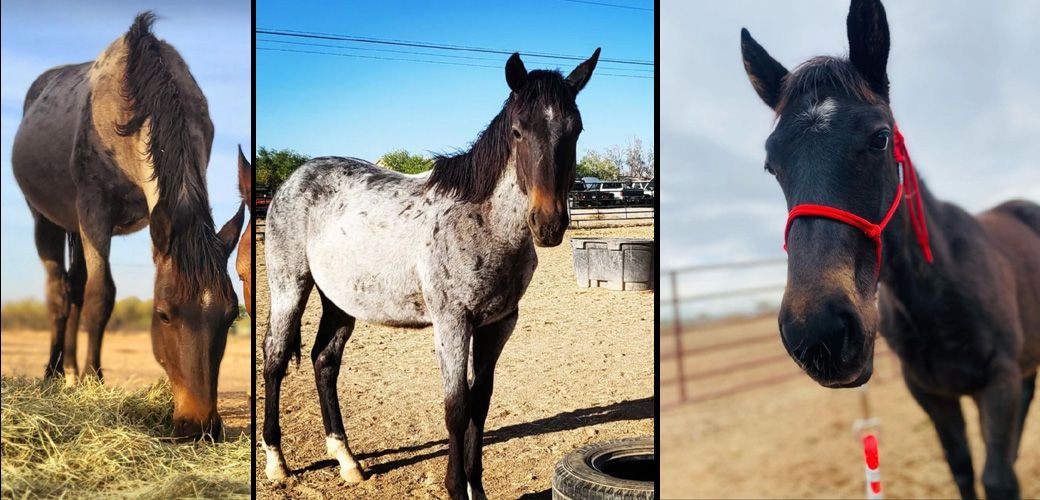 ---
I already searched for a new breed horse with that special "Wahoo!" just by looking in his/her eyes for about three years.
My new horse should be bred for ranch work, a healthy mind and body with a rare pedigree.
I visited several breeders or their homepage in Europe but there was no "Wahoo!"-horsey. So I decided to search world wide, even if I had no experience on how to import a horse. Finally, I found Cinder Ella Sue and her colt at Bridle Bit Ranch and I immedately felt that "Wahoo!". This small black foal #18 had all that I was looking for!
I called Brittany and in our first call she appeared super friendly with lots of patience (even for my bad English), all questions and problems were solved; a panel test, the vet check for export, her long correspondence with AQHA and our export facility, where the Wade family brought my colt to later on. I felt good from the very beginning and that's always confirmed!
Brittany sent me lots of videos and pictures to let me see how "my black diamond" grow. The way how the team of Bridle Bit Ranch handles their animals was the sugar on top. Their never ending patience and horsemanship during my colts' halter training was pure joy to watch.
River Sol War was exported to Germany on 21th January 2022 and arrived home one day later.
He is a gentle horse that respects my room from the beginning. He tells me with every move, that he was raised with love, consequence and all the time he needed to understand his lessons, so working with him is pure fun, he has a great will to please, I love him from the start as a nameless foal and didn't regret to call Brittany for any second.
I have purchased an awesome healthy and curious horse and won wonderful friendly new friends from Bridle Bit Ranch.
Thank you and kind regards,
Dorte
Menslage, Germany
---
We just purchased two yearling fillies from Bridle Bit Ranch. We had the coolest experience purchasing them. We came from out of state with our truck and trailer hoping for the best. Brittany was wonderful to work with. She was honest, humble and answered my questions with ease, on top of sending tons of pictures. The fillies were exactly what she described. She gave us an amazing tour of their over 12,000 acre ranch. We were able to see the dams and sire. The little things go a long way when you are purchasing a horse and this has been my most favorite purchase by far. Everything was done with ease, we were comfortable, we got new halters, cool hats and my favorite a picture book of my filly from birth till now. I have never owned a horse with a brand and I'm glad we got these two bc I'm proud to rock the Bridle Bit Ranch brand. I highly recommend if you're looking for a nice AQHA, ranch/ cow bred horse with genuine people.
Tasha Corrin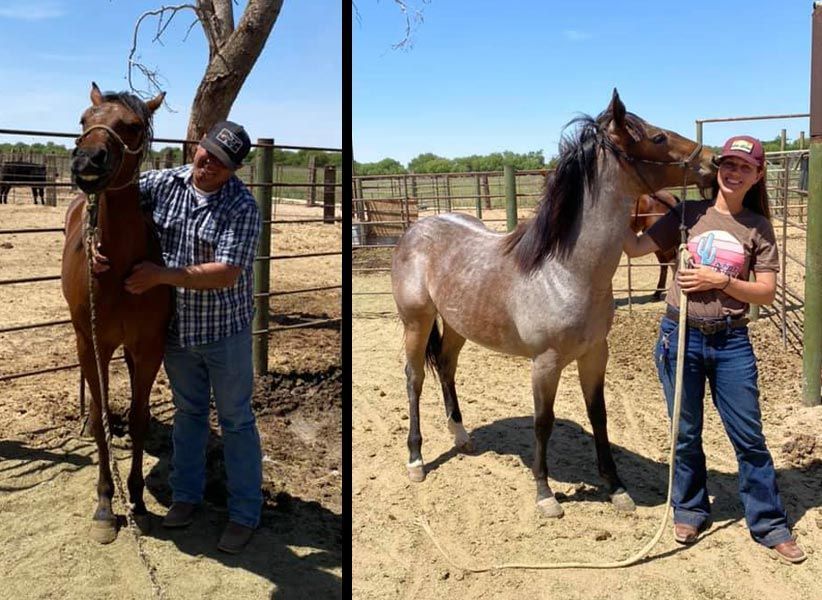 ---
Brittany and Thomas Wade are great to work with. My wife and I purchased My Hot Sol a 2020 filly. Last year we were searching for another horse for our 6 year old boy. We began the search online and came across Bridle Bit Ranch, I called Brittany and talked to her about coming down and checking out the horses. We came across Sol and we both instantly fell in love with this horse!! We can't thank you enough for the experience and making us feel like family. She is an awesome little filly, everything we were looking for and can't say enough about how well she matched with us and all our other horses. We highly recommend them if you are looking for your perfect horse. We will always contact you for any of our future horse purchases.
The Chalico-Marin Family
Phoenix, AZ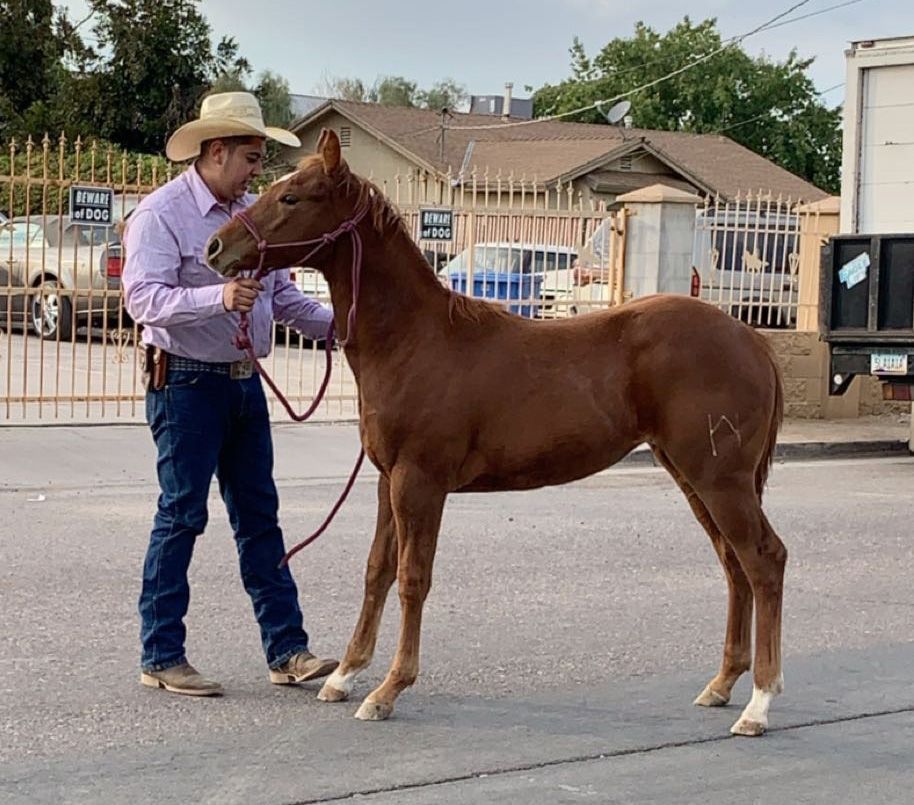 ---
Highly recommend Bridle Bit Ranch. Top Notch breeding program and even better folks whom we are now honored to call our friends!
Last March 2020, we had the pleasure of meeting Thomas Wade and his daughter Brittany when they dropped off five gorgeous well bred mares to breed to our stud WWR KING GIST HRH. We were so impressed with their program and decided to add two of their 2020 Poco Bueno fillies to our own program. Again we are honored to call the Wade Family our friends for life!
Mark and Molly Thomas
Rockin' M Lazy T Quarter Horses
Sulphur, OK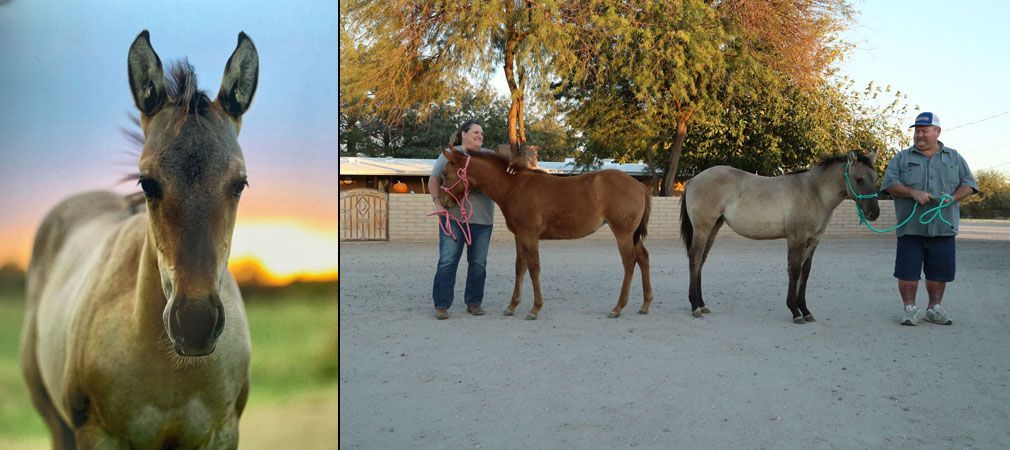 ---
Back in May 2020 I purchased a red roan filly (Peppy's Hot Sol) from Bridle Bit Ranch. The experience was so smooth and so amazing. I had heard of the website from my brother and decided to check it out as I was searching for a project rope horse. I saw Sol and I knew I had to have her! We went to the ranch to check her out and I was SOLD! Brittany was willing to work with me and she was there every step of the way answering questions and sending pictures until we picked up the horse.
Sol has been such an amazing addition to the family and we can not imagine life without her. She has the sassiest little personality which Brittany told me she had since she was born however she is the sweetest at the same time. She is doing very well and we have started to pony her on our rides!
Bridle Bit cares so much about every horse they have and you can tell that it is not just a job for them it is a passion. Ever since we picked up Sol in May Brittany has reached out to ask how she is doing and it is one of my greatest joys to send pictures and update them on her progress because I am so proud of her! I couldn't have gotten luckier to find such a great company and we will be purchasing from them again in the future!!
Thank you Bridle Bit Ranch!
Francisco Bracamontes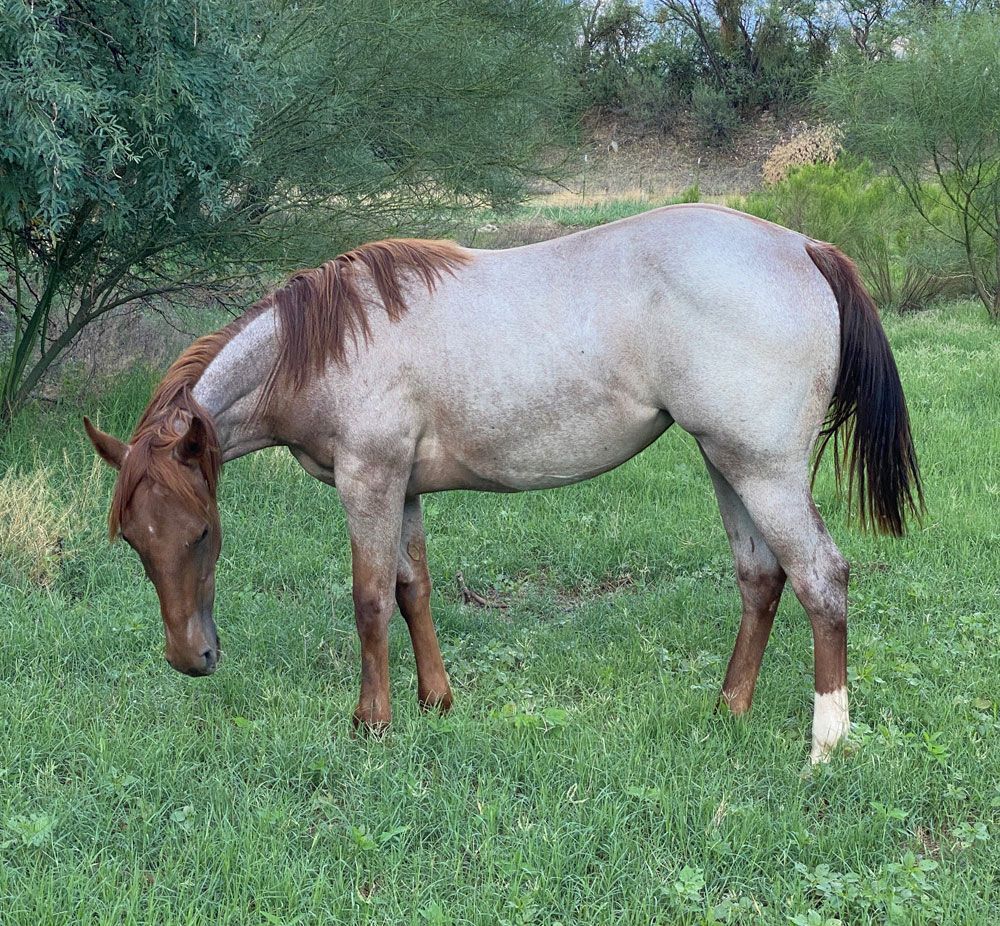 ---
We initially purchased a yearling filly from Brittany at Bridle Bit Ranch in March 2020. The first trip we took was to come see the ranch and the mares with the yearlings. Upon arrival we met Coy who showed us around all the Mare pastures. He was so kind and it did not seem to bother him one bit to drive us around and explain everything about the ranch. We picked out a filly and scheduled to pick her up at the end of March. Brittany stayed in contact with us during the pending pick up time and would send pictures. When we picked up Penny we met Brittany and her family that day and they were also more than accommodating. They are all very nice people, Brittany continued to stay in contact with us. About a month and a half later we decided to purchase Penny's half sister. I received pictures and updates from Brittany until we were able to pick her up. The foundation bred lines make these two so fun to work with. They are extremely smart, learn quickly, and grow like monsters on a little bit of Purina Omelene. We are so pleased with these two we are looking to purchase a 3rd in 2021!
Kaycee M
---
When we moved back to Arizona a little over a year ago, we knew we wanted to get a young horse, something that could grow up with our children. I did a bit of research and it wasn't long before I settled on working with Bridle Bit Ranch. I reached out via email with some questions about a couple of foals and within the hour, Brittany had given me a call, told me all about the foals, and scheduled a time for us to come meet some of them.
When we arrived at the ranch, Tom took us to see the foals. He was so patient with us as we asked questions and looked over the babies; he told us all about their breeding and what we could expect from each one. We left that day putting a down payment on a beautiful roan colt and 5 months later, Oliver came home to us. To this day, Brittany and I keep in close touch giving each other updates about Oliver and the new babies at the ranch!
Tom and Brittany are some of the most amazing, kind people I have ever met and since my husband won't let me buy anymore horses, I get to still be involved with Bridle Bit Ranch offering Unicorn Photo Sessions to little princesses!
I absolutely love this ranch, the people who own and run in, and everything they do!
Kristin Bendigo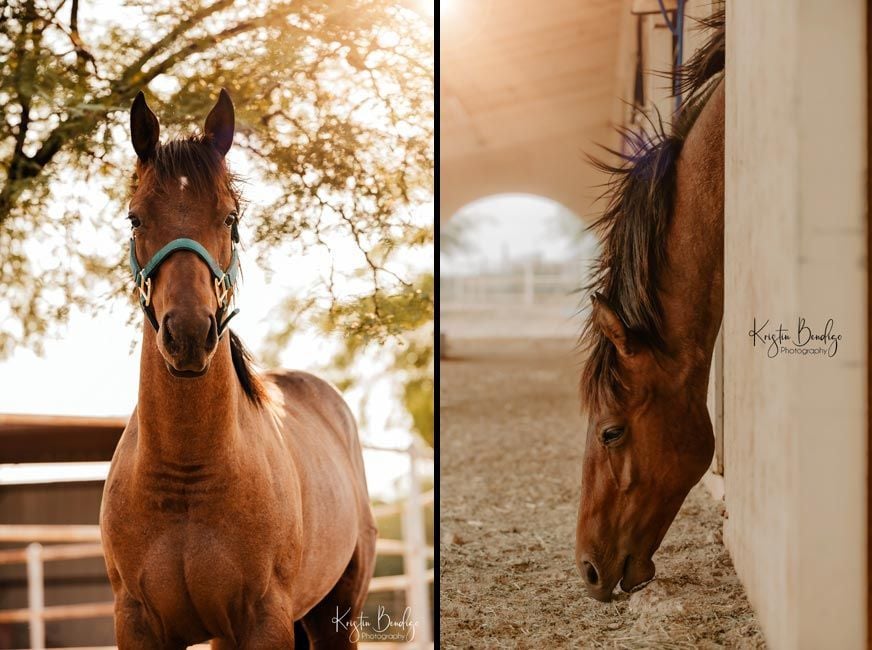 ---
We got two horses from Bridle Bit Ranch, a line back dun mare 2018 and a dun colt 2019. Both have proven to be amazing horses so far we have started Harley under saddle and she does amazing in the hills and arena. Great minded horses. Tucker our 2019 stud colt, we are able to turn out with the rest of our herd with out an issue. We couldn't ask for better horses.
Heather Swaim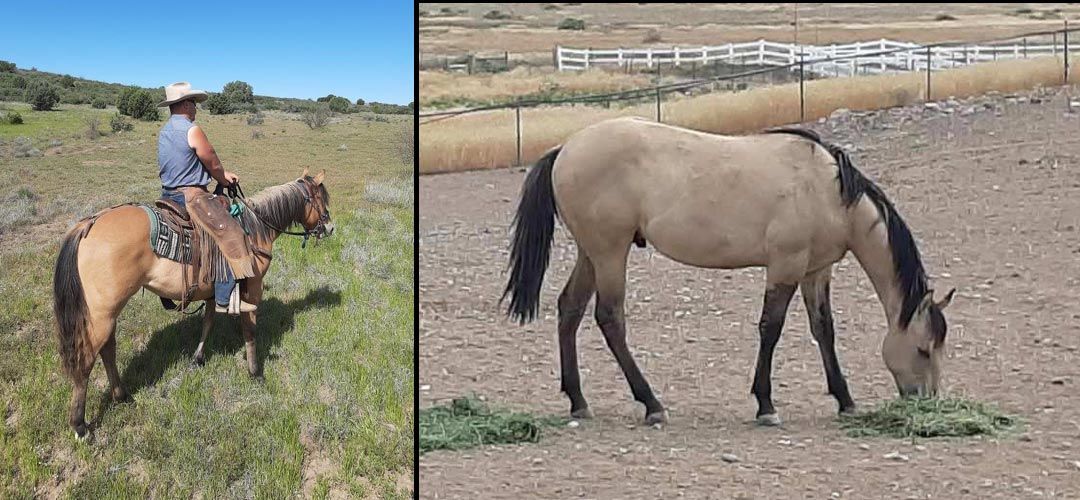 ---
Bridle Bit Ranch were great to work with! They sent me videos and pictures of Angel, her parents and siblings. They were patient with the snail mail check I had to send, delivered 'Angel' and gave me a rope halter and lead to-boot! Plus, they let me pick out a great Bridle Bit cap that I wear in the hot AZ sun when training the horses and Bridle Bit Ranch bumper stickers for our truck - so fun! THANKS Bridle Bit Ranch!
I love the Hancock Line. They have a great mind and are kind horses. Their overall willingness to cooperate and learn new things makes them the perfect student. Plus, the Hancock body shape is classic AQHA. Their athletic ability comes out elegantly as they move at a long-stride walk, smooth trot, slow canter and get-out-of-town gallop.
Cheryl Sherman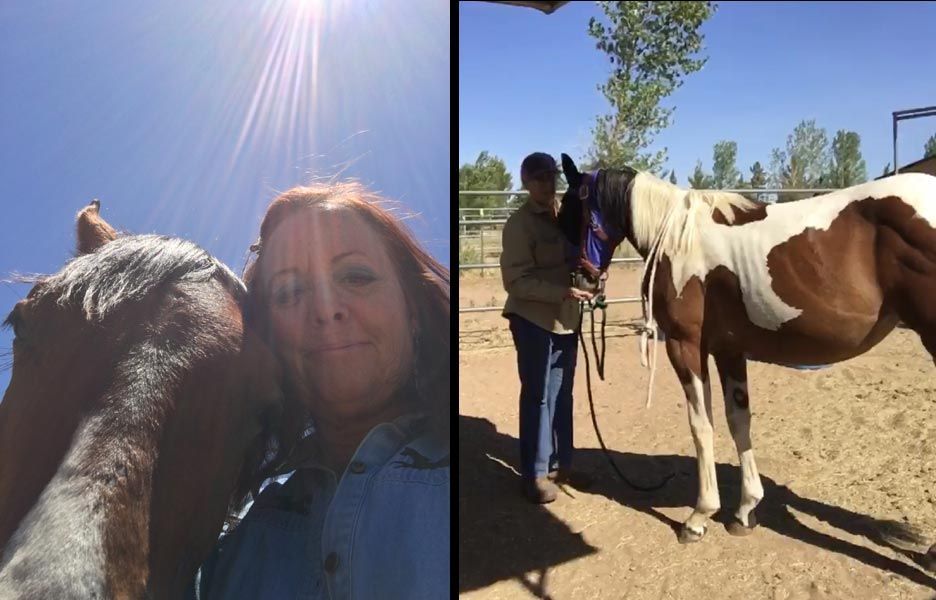 ---
Bridle bit is an amazing Ranch . I cant tell you how happy I am with my horse Whiskey. She is a quick learner easy goer, and her temperament is wonderful. She is just a joy to teach. I fell in love with Brittany (one of the ranch managers) willingness to communicate & give me the honest truth about her horses. I know I have picked a great horse for years to come. I am extremely thankful to Bridle Bit Ranch for every smooth sailing step of the way the process was to buy from them. Highly recommend them for all your horse accommodations.
Marissa Navarrette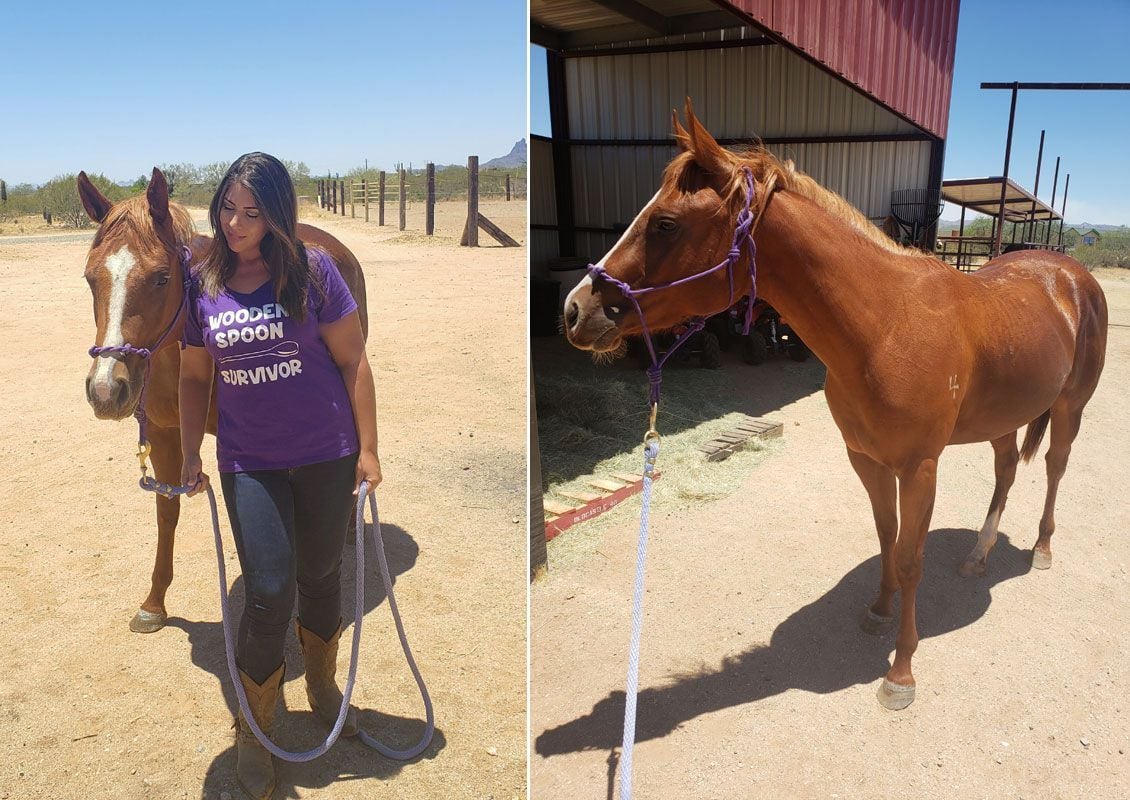 ---
Huge huge thank you to Bridle Bit Ranch for helping me find my dream horse!!
Brittany was so pleasant to talk to & so informative about everything ! I put my deposit down on one filly and received updates and pictures for 3 months which was amazing ! I loved it so much I put another deposit down on a filly! Fast forward to pick up day!
Which I had to move around and they worked with me so much. We get there and meet the rest of the crew, everyone was so nice and friendly. They loaded the horses and just worked with the horses so amazing, which I loved to know they came from caring , knowledgeable people!
They even checked in on us to make sure we made it home safe & how the girls were doing.
I WOULD HIGHLY recommend Bridle Bit Ranch to anyone looking for a solid , good minded , athletic horse !
Thank you again Guys for the amazing horses, I will definitely be back when I get my next horse from you guys !!
Cassandra Borea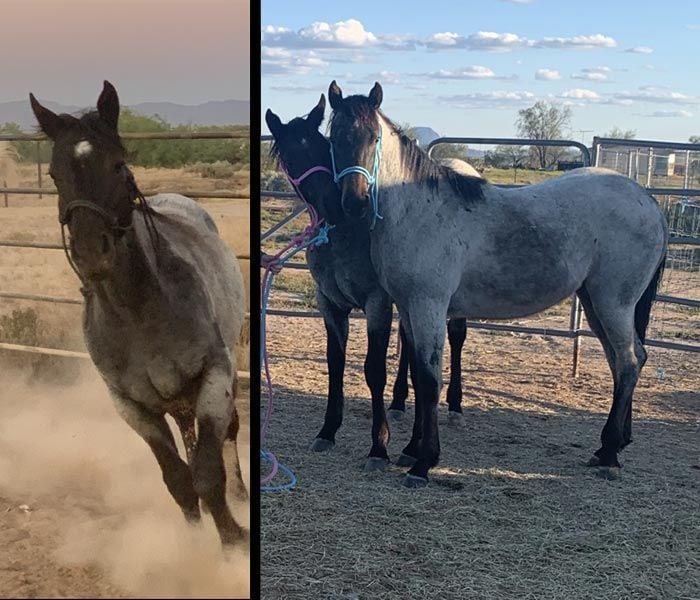 ---
Big shout out to Bridle Bit Ranch, as this was the best experience from the start. We were fortunate enough to come across Bridle Bit Ranch, plus meeting Tom and Brittany as they welcomed us to their ranch. On arrival I connected with my new horse Red Hot Sol Cat right out the gate. To be honest, it was hard to make a decision because they are all nice quarter horses. We highly recommend Bridle Bit Ranch as we are going to purchase a couple more horses going forward. Thanks for keeping in touch Brittany, great job and Red is doing great. Also, shout out to Coy with the awesome horsemanship. See you Soon!
Phil Freeland
---
Back in October I went out to Bridle Bit Ranch to look at a filly. Brittany and Coy were great to work with. Brittany was on top of everything her response rate is impeccable. Coy took us out to see the horses. He is very knowledgable and honest.
The original filly I went to look at was great, but was a little on the small side for myself. Brittany recommended Baby Sol Jazz. She said she was going to be big and she wasn't kidding when she said her momma was the biggest mare out there. I knew right away which one she was. I knew then she was the one for me.
The ranch was kind enough to deliver Baby Sol Jazz aka "Jazzy" to my property in Surprise. From day 1 she has been the sweetest filly. She is very easy going and level headed. I couldn't say enough about her. She is my sidekick for sure, personality for days!
I would recommend Bridle Bit Ranch to anyone looking for a great horse. They didn't let me down for sure. Definitely will be back for another great horse in the future.
Thank you Bridle Bit Ranch I couldn't of asked for a better horse.
Tiffany Klemstine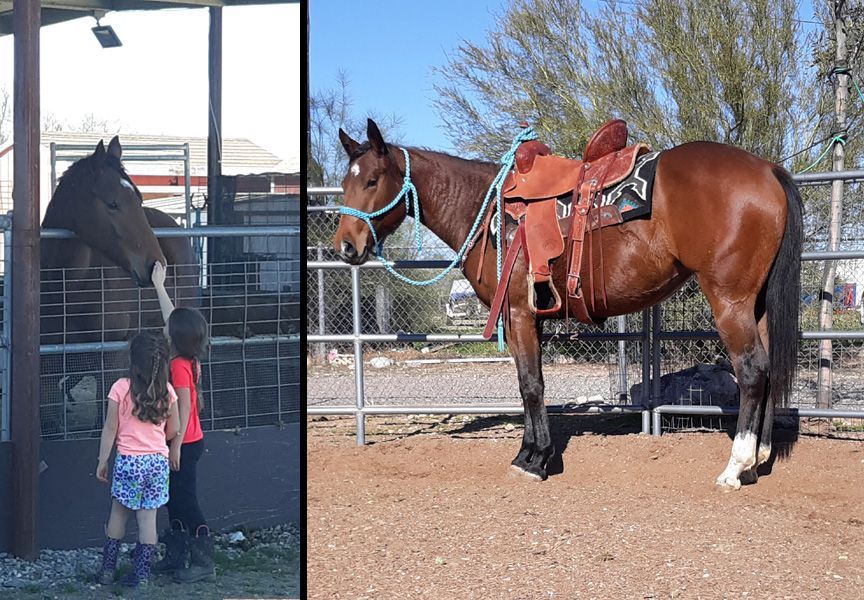 ---
A few weeks ago we purchased Arizona Sol Rose, a 2018 QH mare.
Brittany was very friendly and happy to answer every question I had and was very responsive. Their foreman Coy was also very friendly and polite and happy to help us to pick a horse. What really convinced me was their honesty about the horses. They made sure to tell me everything about their character and personality, showed me both Arizona Sol Roses dam and sire and it was just an all around positive experience.
I couldn't be happier with my very smart, friendly and athletic filly and I recommend the Bridle Bit Ranch to anybody who is looking for well bred, good minded and easy to train horses.
Luisa Freudenberg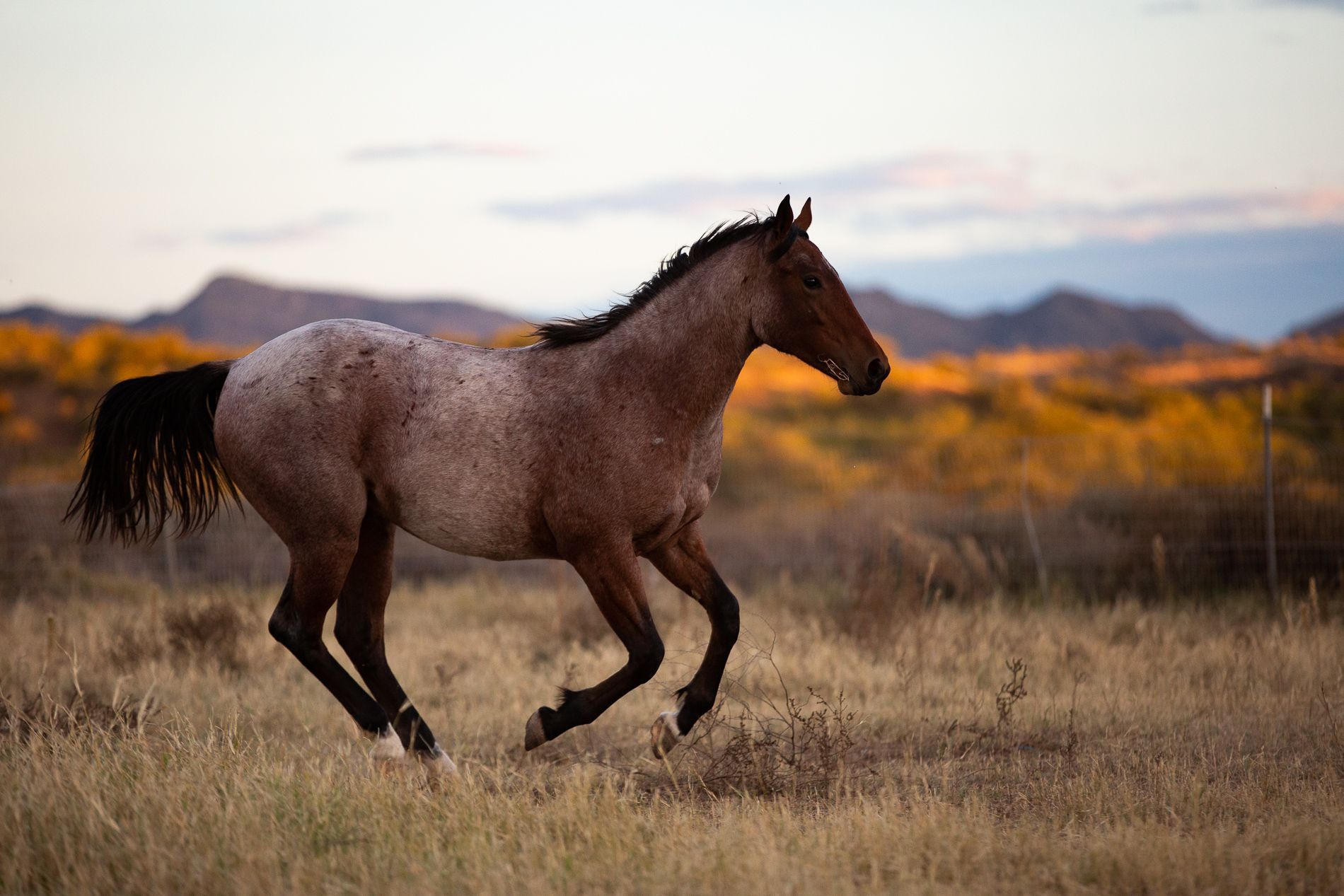 ---
A BIG Thank you to Bridle Bit Ranch! First Brittany was wonderful! She responded to all of our calls and if she didn't have an answer she would call us right back with an answer. I grew up on my Grandfathers ranch just out of Coolidge and was exposed to horses. I never had trained one or broke one because, he made sure he did so, I had a great horse. So, 40 years later I decided after moving back to Coolidge, that is was my time to have my own horse. Poor Brittany, I had a lot of questions and still had some after purchasing my girl "Whisper". When we first went to the ranch everyone was so kind and they let us take our time with picking my life long friend. Tom was very straight forward and honest, my husband and I felt so comfortable working with him. He told us good and bad (if any) on each horse. We got to spend some time with Royal Six Sol now known as "Whisper" and she was wonderful. I had our teenage kids with us and one moment that stood out to us all was meeting " Coy " the Foreman. When he came to introduce himself he went to shake my hand and removed his hat. To some that is normal but, to some city kids it stood out. To witness a true gentleman and the respect he had for others truly stood out so much, it was a topic of conversation on the way home. When we finally decided on Whisper and making arrangements to get her to us, it just felt right. Coy and his family brought Whisper to us on Labor Day weekend. During his time at our house, he gave us advice and answered a lot of questions. I couldn't thank you more Coy for your time and making sure all was good before you left. We hope to see you at the Rodeo in Coolidge this winter. I can honestly say with out question this is my best experience purchasing ANYTHING! I would (without hesitation) recommend "Bridle Bit Ranch" to anyone looking to purchase healthy, strong, good demeanor and beautiful horse to anyone. We are looking to add property to our current home and if it all works out, I will be back to purchase another life long friend. Thank you Brittany, Tom and Coy you made my experience memorable for sure!
Tammy Trout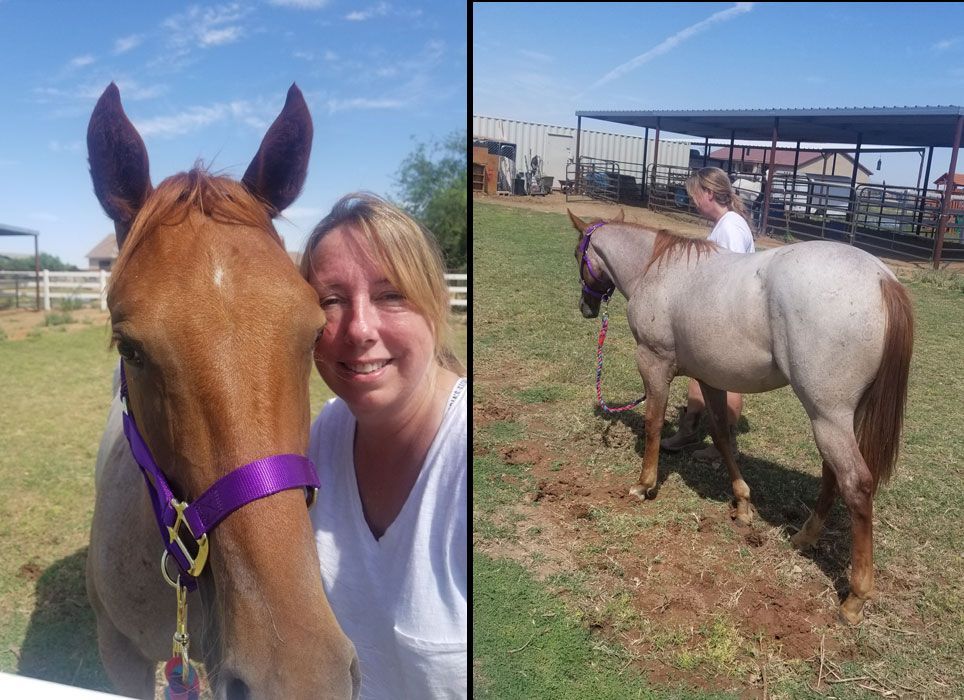 ---
I can't say enough great things about Bridle Bit Ranch! Having been in the horse business for over 40 years, I can't remember having a more pleasant and honest horse transaction. I originally responded to an ad on Dreamhorse that had a very well-done video which I think represented the gelding very well. From the outset, Brittany was friendly and extremely responsive to my inquiry, sending me additional information and videos regarding the gelding that was posted for sale. She went out of her way to meet my needs and set up a showing. Throughout the entire process, and even afterwards, Brittany was friendly and open to answering my questions and texts.
Once at the Ranch, Coy, the foreman, and his family were equally as friendly, open, and accommodating, as was Tom the owner of the Ranch. There were no high-pressure sales tactics or embellishing of what Knob is as a horse. What impressed me the most was how honest and friendly everyone at Bridle Bit Ranch is and how much they care about their horses. Overall, the experience was very pleasant, easy, and enjoyable.
I think want truly sold me on Bridle Bit Ranch was what happened next. During the week between me buying Knob and picking him up, my gelding that I had for 19 years passed away unexpectedly. I asked Brittany if she had another horse like Knob for sale and she and Tom agreed to have me try Blue, a horse that had been in their family for years. I rode him and really liked him. He fit me perfectly! He turned out to be just want I needed. I can't express my gratitude enough to Bridle Bit Ranch for such a nice horse after losing my gelding.
I am so very happy with the two gelding that I purchased from Bridle Bit Ranch! They are both sweet, healthy, and nice riding geldings with exceptional minds! They are exactly what I was looking for in nice, calm, broke horses. I will not hesitate to come back for more horses in the future; the yearlings are exceptional! I highly recommend Bridle Bit Ranch to anyone looking for a nice, quality Quarter Horse.
Sarah Lind
Tucson, AZ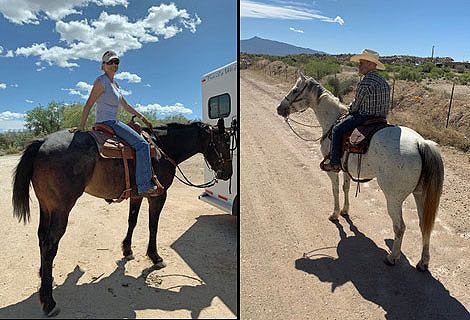 ---
Want to give a big shout out to everyone at Bridle Bit Ranch. I originally responded to an ad for a horse for sale, but the horse had just sold. Brittany took the time to ask what I was looking for, and suggested another horse that was at the ranch. The horse they matched me with turned out to be perfect for what I wanted.
Everyone was very accommodating, allowing me to try the horse out on a Sunday morning, rode with me while I "test drove" him, allowed me to try him working some cattle, and answering all of my questions.
During the time between when I test rode him, and picked him up a week later….they were always very willing to answer additional questions that I had. Even made of video of him doing/accepting things I asked about. They were very straight forward through the entire deal.
I am very happy with the horse I bought….and everyone at Bridle Bit Ranch was open, friendly, and made the whole experience very easy. I would definitely check with them again if/when I am in the market for another horse. I would recommend that anyone looking for a horse check with them first.
And….if you are in the market for a weanling/yearling…..definitely check out their babies!! Absolutely some of the best Quarter Horse babies I have seen in a long time!
Karin Berndt
Queen Creek, AZ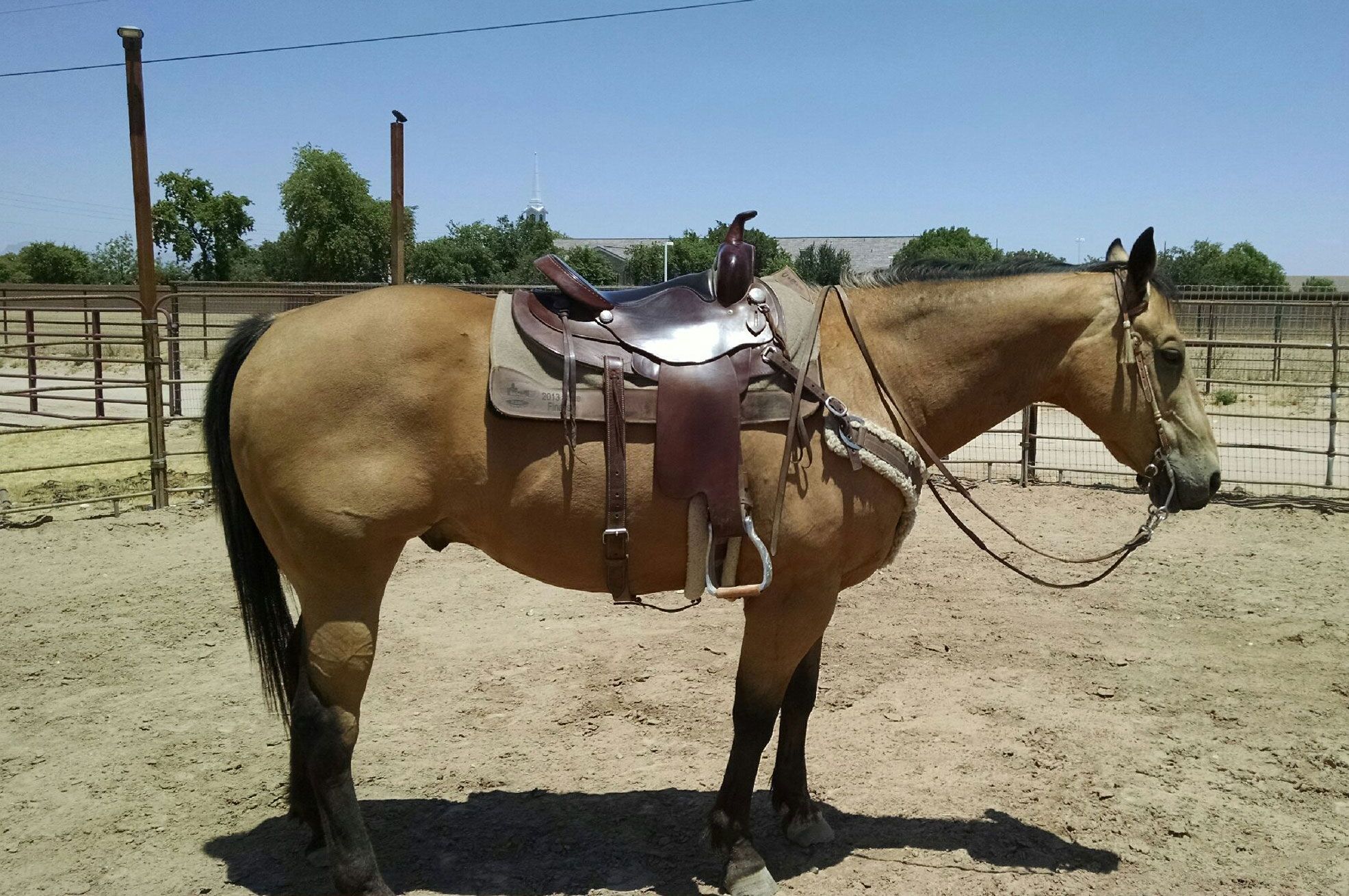 ---